"...the Test Experts Reading / Dyslexia Program helped me tremendously in my language arts classes."

The Test Experts Reading / Dyslexia Program
The Test Experts Reading/Dyslexia Program provides an answer to parents who are looking for help with their student's struggles in Language Arts.  Approximately 20% of the population has dyslexia, but this learning difference is often undiagnosed.  The Test Experts offers the gold standard in remediating students in Language Arts.  We offer explicit, diagnostic, Orton-Gillingham, multi-sensory lessons to students of all ages.
The Test Experts Reading program is designed by The Test Experts Instructor Hayden Angay, who is trained in the Orton-Gillingham method and is completing her Graduate Certificate in Dyslexia from the University of Georgia. The Orton-Gillingham method is widely recognized as the premier dyslexia remediation method in the country.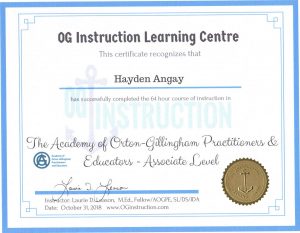 We also provide screening tools and review school documents with you to understand your child's specific needs.  It is important that an individualized plan is put in place to help your child succeed in reading, writing, and spelling.  With a scaffolding approach, we ensure that your child receives the remediation that he/she needs in order to make progress.
In this program, we offer 1:1 tutoring and use specific decodable books and materials to build your student's confidence.  In addition to the Orton-Gillingham approach to teaching, we also offer assistance with 504 accommodations in the schools.  It is important that your child have all the tools necessary not only to succeed but also to thrive.